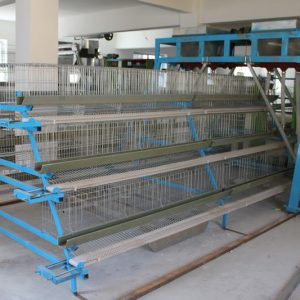 How to get the most benefit from breeding layer
In order to obtain the maximum benefit from farmed laying hens, it is necessary to do research and summarize experience in the daily management process, so that the laying hens can play their greatest role.
1. Before 20 weeks of age, the body shape should conform to the characteristics of this breed, and the disabled chickens should be eliminated; the blind, crooked, limp, thin, twisted wings, and bald tail chickens in the flock should be eliminated.
2. Eliminate chickens with yellow feet and yellow beaks and bright appearance in 250 days; in the same flock, individual production performance is different. When the production continues for a period of time, the difference is more obvious, about 250 days old When the feathers are complete, they are shiny, the activities are extremely flexible and fast, the cocks are ruddy, and the chickens with beautiful appearance are often low-yielding chickens, and even do not lay eggs. Empty consumables should be eliminated.
3. Eliminate according to the feces: go to the chicken house to observe the feces at night or in the morning. The feces of the laying hens are soft and moist, but the chickens that do not lay eggs are dry and hard due to the low intake and slow digestion. To be eliminated.
4. Chickens after 280 days of age should be observed and eliminated at any time: At this time, the chickens have been laying eggs for more than 5 months, and the chickens that have stopped producing often have pale and thin crowns. Such chickens must be eliminated; During egg production, the pigment has degenerated, and the yellow pigment in each part (especially the legs and beak) gradually disappears and becomes white. The more eggs are laid, the more severe the discoloration. At this time, if some chicken legs and beak color change from white to yellow, it also means that the chickens are discontinued and should be eliminated.
5. Elimination of big-bellied chickens: Flocks after 280 days of age often appear to walk like penguins. When touched, they can feel big and hard abdomen (yolk peritonitis) or large abdomen such as water (fallopian tube cyst). Eggs should be eliminated.
6. Elimination of early moulting chickens: After laying hens complete a laying period, the laying hens generally change their hairs from September to October each year. Low-yield chickens begin to moult in August, and have a long duration and long suspension time, so they are eliminated
7. Eliminate chickens that produce big eggs: Some chickens usually produce eggs as big as duck eggs after the start of production. These chickens often produce an egg only 3 days later. The egg material is not profitable from the calculation and should be eliminated.
8. Eliminate non-laying chickens and soft-breaking chickens: due to epidemics or improper management, some chickens will not lay eggs due to ovarian infection or other reasons, and will not lay eggs in the future. Chickens should be eliminated as soon as possible.
The editor reminded that laying hens with ovarian inflammation but not laying eggs had no symptoms within the first few months. After the peak of egg production, that is, 250 days, no eggs were picked in the morning, and egg production was observed after 4 pm. Number of eggs: 4 chickens produce 3 or fewer eggs, or 3 chickens with less than 2 eggs, and then mark the chickens in these cages one by one for 5 consecutive days at 5 a.m. Mark the egg. After 5 days, for the full panning of more than 3 marks (so that the chicken egg production rate does not exceed 60% and has no breeding value), then it will be carried out every other month.