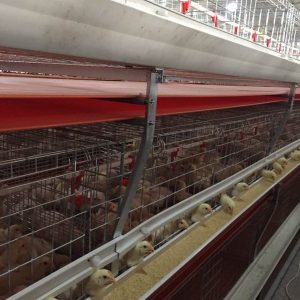 How to reduce the damage rate of egg shells
In the process of large-scale breeding, the eggshell will always be damaged. How to reduce the damage rate?
1. The bottom of the cage for caged chickens should not be too steep, the iron wire should not be too thick, and some cushions should be installed in front of the egg trough to slow down the collision.
2. The stocking density should not be too high, and to prevent egg pecking.
3. Reduce each stress as much as possible to reduce the breakage of the egg.
4. Picking eggs and moving egg boxes should be handled gently, moved, and placed gently. If eggs are used in boxes and baskets, clean, dry, and soft bedding should be placed underneath, and not too much. Avoid bumps and collisions during transportation.
5. Ensure the health of chickens and prevent the occurrence of diseases that affect the quality of eggshells.
6. ​​When selecting chicken breeds, breed chickens with strong eggshells and good eggshell quality should be selected for breeding.
7. The diet should contain sufficient available calcium, phosphorus, manganese and vitamin D, and the level of calcium in the diet should be increased in the late stage of laying.
8. Pick up eggs at least 4 times a day. In summer and for older chickens, you should increase the number of eggs picked up every day. When picking eggs, it is best to pick up the eggs directly on the egg tray. Put dirty and broken eggs separately.
9. Flat-raised layer hens should be transferred to the laying hen house as soon as possible, and should not exceed 18 weeks of age. The egg box should be placed in the laying hen house 1 week before laying. Lower it first, and then raise it to a height that is convenient for picking eggs after the chicken gets used to it. Sufficient laying boxes should be prepared and placed in a dark, well-ventilated location in the chicken house. The laying box should be replaced with clean, dry, soft bedding frequently.
Reduce eggshell damage rate and improve economic benefits.