Sale
Automatic Layer Cage System
$2,400.00
Automatic layer cage system Characteristics is:it's good for layer 2, 3, 4, 5tiers cages,the design is simple but stable and easy to operate.It can save energy
Description
Automatic Layer Cage System
Characteristics of automatic layer cage system:
it's good for layer 2, 3, 4, 5 tiers' cages,
low egg break rate.
the design is simple but stable and easy to operate.
It can save energy and manpower with high working efficiency,
Reasonable and simple structure, firm and durable, stable performance, time saving, smooth egg collection, fast collection speed, low egg breaking rate, durable conveyor belt, long service life and other features
Description of Automatic layer cage system egg Collection System:
Specifications:
Size: (2.2-28)*(1..0-1.5)*(2.0-2.6)m
Rated Power: 0.75-3.0 KW
Egg Collection Qty/H: 3000 pcs
Working Type: 4 tiers working together
Rated Voltage: 380 V
Design: Two side design with nylon belt
Specification of automatic layer cage system
Tiers

3 & 4

Nest /set

24/32

Item

XFA-96/128

Area/nest




cm2

1598

Cage Dimension

190*226*156




cm

Area/bird




cm2

399.5

Capacity/nest

4 birds

Area food/bird




cm

11.75
Accessories of

Automatic

layer cage system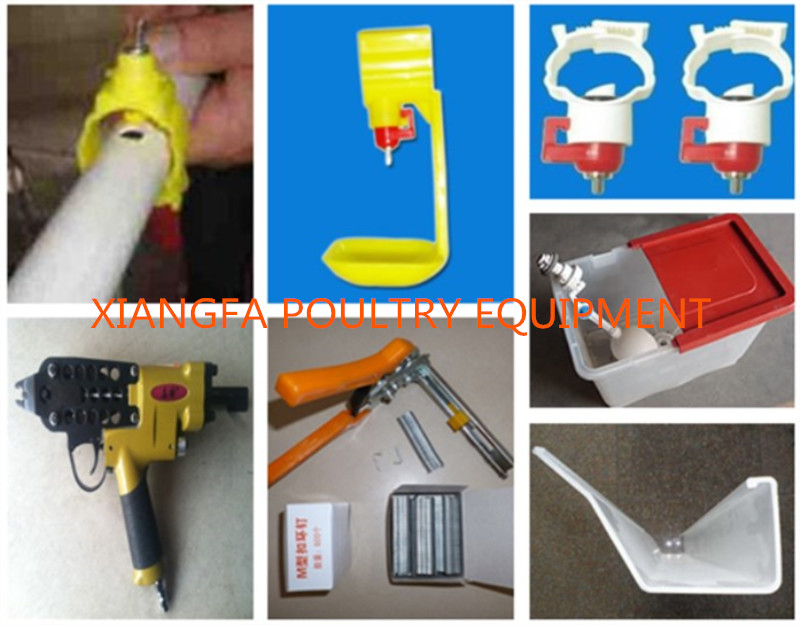 Egg collecting system of automatic layer cage

Manure removal belt system of automatic layer cage

Reference some layer chicken cages
---
Xiangfa brooding cage advantage
1. Zinc-plated low carbon steel wire has strong tensile and compressive properties.
2. It is convenient to observe the growth of chicks, which is convenient for grouping and selection.
3. Automatic timing and clearing of feces effectively reduces the disease infection rate and mortality of chicks.
4. The trough is equipped with an adjustment plate, which can effectively meet the chick feeding at different growth stages, and has sufficient feeding, eating position, uniformity and health of the chicken.
5. Chicken feeding per unit area has increased by 50%-100%.
6. The pressure regulator can adjust the water pressure to a certain amount, and the water supply of each nipple drinker is evenly distributed to ensure sufficient water supply for the chicks.
7. It can be equipped with automatic feeding equipment, automatic water supply system and automatic cleaning system to realize the specialization and automation of equipment.