Sale
Laying Hen Cage 108 Birds
$188.00
Laying hens cages 108 birds one unit,It should be a completed set ,the frame is "A" type,and the model is XFA3-108,it has 3 layers,dimension is 1950*2260*1750mm
Description
Laying Hen Cage 108 birds 3tiers "A" frame
►Laying hens cages108birds 3tiers "A" frame.
It is specially designed for laying hens. The cage has a capacity of 108 birds and 3 floors. The cage body is reasonable in structure, small in floor space, good in ventilation, good in lighting, and simple in installation.Suitable for small and medium-sized farmers
| | | | |
| --- | --- | --- | --- |
| Item | XFA3-108 | Area/set cm² | 1300 |
| Tiers | 3 | Cell Dimension cm | 32.5*40*42 |
| Cell/set | 36 | Area/chicken cm² | 430 |
| chicken/cell | 3 | food/chicken cm | 10.8 |
►The advantages of  laying hens cages:
Stepped egg cage, simple and durable;

Chicken cage mesh and bottom mesh encryption, effectively prevent the chicken from licking    the anal phenomenon, reducing the egg breaking rate and laying chicken fatigue syndrome;

The whole set of products adopts hot-dip galvanizing process and has long service life;Q235 material has large elasticity and is not easy to bend;

The thickening structure of the front mesh wire is firmer, the structure is reasonable, and the energy consumption is low;

Unique cage door design, the cage door space is larger, the position of chicken feeding can be arbitrarily changed, which effectively solves the crowding of chickens when eating,        ensuring that the birds eat more evenly;

Using conveyor belt type to clear the feces, the chicken manure is dried into granules reducing environmental pollution, and the high utilization rate of chicken manure;

Many customers at home and abroad use it with excellent results.
---
Descripstion of laying hens cages 108birds 3tiers "A" frame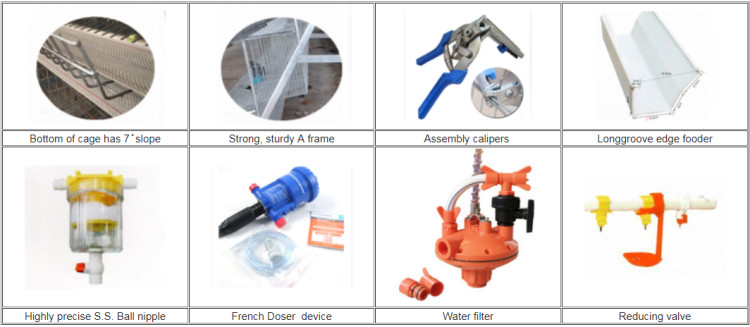 Cage wire mesh: consists of bottom, top, spacedcage mesh,door and special card wire.
Material: Q235 high quality unannealed steel wire
Bottom of cage has 7 ̊ slope, the angle of inclination is reasonable, to ensure that the eggs roll gently and smoothly
Weaving process: First welding and then bending
Surface treatment: Hot dip or electroless galvanizing
Advantages: smooth surface, good elasticity, high strength, low egg breaking rate and so on.
A frame of laying hens cages :
Material:U Type rectangular tube with hot galvanized ,Angle Iron or 6mm thick steel flat

Weaving process: cutting, stamping, bending, welding, forming.
Advantages: strong, sturdy and smooth
Years of use: 20-25 years
Water drinking line:
Highly precise stainless steel Ball
High sensitivity ,360 ̊ Active sealed stem
No leakage guarantees dry of chicken manure
Installation, disassembly,convenient and cleaning is easy no need for glue and bonding
25# PVC round pipe
Feeder though for laying hens cages:
Material:PVC plastic or hot galvanized steel
Color: white ,green ,red or you request
Plastic food trough : raw polyethylene materials, super toughness, with anti-fall, anti-pressure, anti-aging
Characteristics: durable, transport does not occupy the place, will not damage.
The design of the long groove edge of the feeder though is very good, which reduces the waste of the chicken food.
Front water Supply for laying hens cages:
In front of poultry house there is a filter for water cleaning , a medicator and water meter
Pressure regulator Concentration of chemical feeder is adjustable and the water meter is numerable
The pressure reglator it can adjust pressure at the outlet and has a recoil function
---
Comparative analysis laying hens cages 96,120,128birds
---
Standard design of laying hens cages

Laying hens cage unit size: 1950*2260*1750mm
The use of  rows by 3 tiers 108 birds "A" type
The chicken house measures 100 meters long
14 meters wide
3.0 meters height in the room
47 units per row,4 rows in house
Breeding number of chickens is 20304birds
---
►Related laying hens cages  equipment
Use cooperatively A frame laying hens cages equipment produced by Xiangfa Company, it can realize the automatic feeding control system, the egg collection system, the automatic control of the scraper manure-clearing system, the operation is convenient, the labor productivity is improved, the economic benefit is high, and it is suitable for large-scale Laying hen culture
The following machine shoule be customer request:
---
 ►Packing and delivery:
The bottom and top cage wire mesh make 6 pcs one bundle, The partition cage wire mesh make 12 or 15 pcs one bundle,the doors make 12 pcs or 60 pcs one bundle but they are bulk no package.
The Frame stands  make five five pcs per bundle but they are bulk no package.
Some fittings  are in plastic bags or cartons
LCL: first packed with plastic film  then shipping by pallets
FCL: The cage mesh and frame stand make by bundles ,and the accessories packing by plastic bag or cartons,
The chicken equipment by pallets.
Others packing and the poultry equipment  according to customer requirement
Laying hens cages transportation