Sale
Layer Chicken Cage 128 Birds 4 Tiers
$148.00
Layer chicken cage 128birds,Cage Model: XFA4- 128,dimension:1900*2460*2050mm,Cells : 32,chicken area:394 cm2,chicken food area:9.85cm,galvanized or Galfan wire
Description
 Layer Chicken Cage Design 128 birds 4 tiers
► The classification of  layer chicken cages:
The layer chicken cage was made by XIANGFA  company is divided into "A "type  and "H" type  according to the frame of cage, which provides you with two, three, four and five-layers for you to choose.

XIANGFA company has 35 years of production experience, advanced production equipment and technical strength. The chicken equipment has undergone strict quality supervision and testing, and the quality has reached the domestic advanced level. The products sell well all over the country and meet different regions, large or small farmers.
►Advantages of layer chicken cages:
Save 75% of the rearing area relative to the ground, and increase the laying rate of laying chicken.

Reduce investment, easy maintenance and maintenance

Convenient for disinfection, easy to control infection of parasites and helminths such as coccidiosis.

The automatic drinking water system ensures that the pressure of the water in the nipple is equal, ensuring the drinking water of the laying chicken.

The design of the long groove edge is very good, which reduces the waste of the material.

The ventilation effect is good, ensuring the air circulation in the cage system, and the laying chicken will not die due to excessive temperature and suffocation.

Together with the septic belt system produced by XIANGFA POULTRY EQUIPMENT COMPANY, it can effectively reduce the growth of pathogens and reduce the disease rate and mortality of laying hens.

Easy to install, easy to operate, rugged and airy, suitable for open, semi-open and open style houses.

The surface of the cage mesh is processed by galvanizing process, which is smooth and bright, and has good anti-corrosion effect.

Cage frame structure is reasonable, stable and stable, suitable for 15-20 years

Ventilation and lighting are good for the growth of laying hens, high egg production rate and low egg breaking rate.

Low investment, large amount of support and high economic efficiency.
►Anti-corrosion surface :Electro-galvanizing, Hot-dip galvanizing, PVC coating and PVC dip four ways
Electroplating zinc processing :

Electro-galvanizing, also known as cold-galvanizing, uses electrolysis to adhere a uniform, dense, and well-bonded zinc layer to the surface of the cage wire. The amount of zinc on the surface is small, about 10-50 g/m2, which can prevent corrosion. To improve the wear resistance, reflective properties and enhance the appearance of the appearance, the electroplated zinc cage has a service life of 10-15 years and is inexpensive.

Hot-dip galvanizing :

Hot-dip galvanizing, also known as hot-dip galvanizing is a method of immersing.Cage wire in a molten zinc solution to obtain a metal coating layer. The galvanized layer on the surface of the cage wire is more uniform and dense, and the thickness is more than 200 μm. Up to about 450g/m2, but the surface of the cage is slightly rough and not smooth, but it greatly improves the coverage and adhesion of the zinc layer. The long-term use effect is good, and the hot-dip galvanized cage has a service life of 20-25 years. The price is a little expensive.

PVC coated :

Simply put, a layer of Poly Vinyl Chloride is evenly sprayed on the surface of the cage wire to provide anti-corrosion and aesthetic effects. It can be used as the color required by customers. The price is slightly expensive and the customer rarely needs it.

PVC dip-shaped:

It is a method of immersing the cage wire in a molten Poly Vinyl Chloride liquid to obtain a PVC cover for the cage wire. The anti-corrosion effect is better, and different colors can be made according to the requirements of customers, and the price is very expensive. Very few customer needs.
► The cage colors  :
Silver color— The cage wire after galvanizing processed or use Galfan wire

Primary colour—The cage wire is not processed in any way

White color,green color,yellow color,blue color that According to customer request—  After PVC painting or PVC coated.
---
Description for layer chicken cages
►Capacity of "A"type chicken cages
60 birds,90 birds,96 birds,108 birds,120 birds,128 birds,150 birds,160 birds,200 birds for your choose,

Note :2 tiers A type cage is for Female breeder Raising cage,

3 tiers A type  cage,4 tiers A type cage ,5 tiers A type cage is for laying chicken

---
View more  layer chicken cages
---
Details Of 128 birds layer Chicken Cage "A" type
128 birds 4 layers "A" type laying hen cage should be one completed set.Which is a combination of cage wire mesh, A frame stand, water drinking line and chicken food line.The overall structure size is: 1900*2460*2050 mm, divided into 32 small cells, 4 chicken can be placed in each cell, and a total of 128 chickens can be placed.
Item
XFA4-128
Chicken Area
399.5
cm²
Size of frame
188*226*156 cm
Chicken food Area
11.75
cm
Cells per set
32
Tiers
4
Cell Area
1598 cm²
Capacity
128
1.Cage wire mesh :
consists of bottom, top, spaced cage mesh,door and special card wire.
Material: Q 235 high quality unannealed steel wire

Bottom of cage has 7 ̊ slope, the angle of inclination is reasonable, to ensure that the eggs roll gently and smoothly

Weaving process: First welding and then bending

Surface treatment: Hot dip or electric galvanizing

Advantages: smooth surface, good elasticity, high strength, low egg breaking rate and so on.
  2.A frame of laying hen cages  :
Material:U Type rectangular tube with hot galvanized ,Angle Iron or 6 mm thick steel flat

Weaving process: cutting, stamping, bending, welding, forming.

Advantages: strong, sturdy and smooth

Years of use: 20-25 years
3.Water drinking line:
Highly precise stainless steel Ball

High sensitivity ,360 ̊ Active sealed stem

No leakage guarantees dry of chicken manure

Installation, disassembly,convenient and cleaning is easy no need for glue and bonding

25# PVC round pipe
4.​Feeder though:
Material:PVC plastic or hot galvanized steel

Color: white ,green ,red or you request

Plastic food trough : raw polyethylene materials, super toughness, with anti-fall, anti-pressure, anti-aging

Characteristics: durable, transport does not occupy the place, will not damage.

The design of the long groove edge of the feeder though is very good, which reduces the waste of the chicken food.
​​5.Front water Supply :
In front of poultry house there is a filter for water cleaning , a medicator and water meter
Pressure regulator Concentration of chemical feeder is adjustable and the water meter is numerable
The pressure reglator it can adjust pressure at the outlet and has a recoil function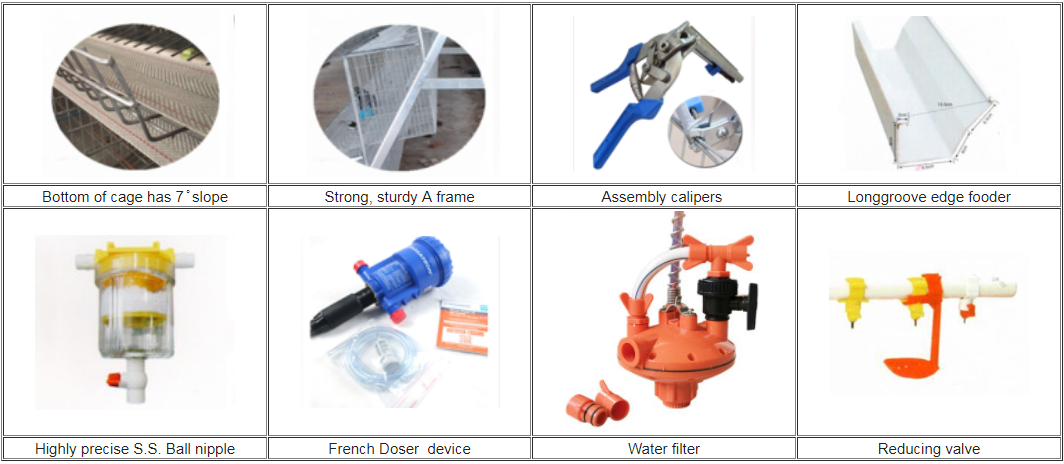 ---
Standard layout of chicken hen house 128 birds 4 tiers "A"type
Capacity 18048 birds  layout of hen house 3 rows or 4 rows
The use of 3 rows  or 4 rows by 4 tiers 128 birds "A" type
The chicken house measures 100 meters long,
12.0 meters or 14.5 meters wide,
3.5 meters height in the room,
47 units per row,
Breeding number of chickens is 18048 birds ​or 24064 birds

---
► Packing and delivery:
The bottom and top cage wire mesh make 6 pcs one bundle, The partition cage wire mesh make 12 or 15 pcs one bundle,the doors make 12 pcs or 60 pcs one bundle but they are bulk no package.

The Frame stands  make five five pcs per bundle but they are bulk no package.

Some fittings  are in plastic bags or cartons

LCL: first packed with plastic film  then shipping by pallets

FCL: The cage mesh and frame stand make by bundles ,and the accessories packing by plastic bag or cartons,

The chicken equipment by pallets.

Others packing and the poultry equipment  according to customer requirement
---